(Hybrid) The Remarkable Odyssey of Angela Merkel
November 30 @ 19 h 30 min

-

20 h 30 min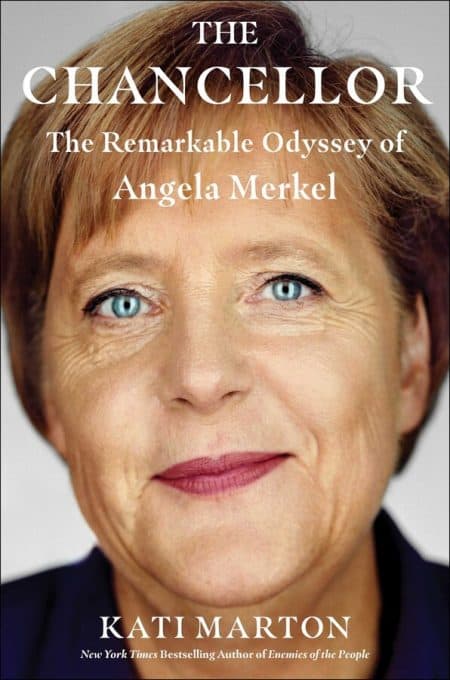 Join Evenings with an Author (in-person and online*) to discuss
The Odyssey of Angela Merkel
with Kati Marton and Thomas Chatterton Williams
Click here to RSVP for the online event
Click here to RSVP for the in-person event
This Fall, Chancellor Merkel, a pillar on the international stage, is expected to step down after a remarkable 16 years in office. This is sure to be a consequential change for Germany, Europe, and the world at large, and whoever takes her place will have very large (modest, practical) shoes to fill. With this event on the horizon, bestselling author, award-winning journalist, and connected political insider Kati Marton's biography couldn't be better timed.
The Chancellor is at once a riveting political biography and an intimate human story of a complete outsider—a research chemist and pastor's daughter raised in Soviet-controlled East Germany—who rose to become the unofficial leader of the West. Marton set out to pierce the mystery of how Angela Merkel achieved all this. And she found the answer in Merkel's political genius: in her willingness to talk with adversaries rather than over them, her skill at negotiating without ever compromising on what's most important to her, her canniness in appointing political rivals to her cabinet and exacting their policies so they have no platform to run against her, the humility to allow others to take credit for things done in tandem, the wisdom to stay out of the papers and off Twitter, and the vision to take advantage of crises to enact bold change.
Click here to RSVP for the online event
Click here to RSVP for the in-person event
About the speakers:
Kati Marton is the author of True Believer: Stalin's Last American Spy; Enemies of the People: My Family's Journey to America, a National Book Critics Circle Award finalist; The Great Escape: Nine Jews Who Fled Hitler and Changed the World; Hidden Power: Presidential Marriages That Shaped Our History; Wallenberg; The Polk Conspiracy; and A Death in Jerusalem. She is an award-winning former NPR and ABC News correspondent. She was born in Hungary and lives in New York City.
Thomas Chatterton Williams is the author of Losing My Cool and Self-Portrait in Black and White. He is a contributing writer at the New York Times Magazine, a Columnist at Harper's, a 2019 New America Fellow and a visiting fellow at AEI. His work has appeared in the New Yorker, the London Review of Books, Le Monde and many other places, and has been collected in The Best American Essays and The Best American Travel Writing. He has received support from Yaddo, MacDowell and The American Academy in Berlin, where he is a member of the Board of Trustees. His next book, Nothing Was the Same: The Pandemic Summer of George Floyd and the Shift in Western Consciousness, will be published by Knopf.
Registration required. Free and open to the public.
*The discussion will be available both online and in person. While the conversation will happen in person (Marton and Chatterton Williams will appear in the Reading Room), the Library will stream the conversation on Zoom for a live viewing experience. Both in-person and online attendees will be able to pose questions.
••••••••••••••••••••••••••••••••••••••••
Important: on-site information regarding COVID-19
In compliance with French regulations, a pass sanitaire is required for all visitors ages 12+. Visitors ages 6+, staff, and volunteers are required to wear masks on the premises.

Related Events