Evenings with an Author: Craig Carlson
10 December 2019 @ 19 h 30 min

-

21 h 00 min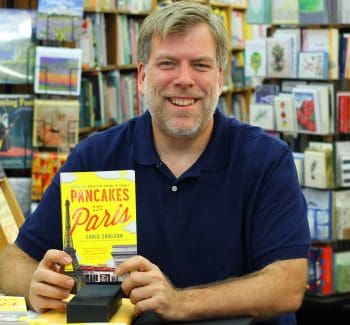 Craig was the last person you'd expect to open an American diner in Paris. He's not a cook nor has he ever owned his own business before. If that weren't challenging enough, Craig decided to open his restaurant in a foreign country with a foreign language, which also happens to be the culinary capital of the world. Yet despite the odds, his diners, Breakfast in America, have become a popular spot for both American expats and the French alike. Craig will present his NYT bestselling book, "Pancakes in Paris," which tells the humorous story of his adventures as a small business owner in France, where cultural differences, mind-numbing bureaucracy and complex labor laws nearly killed him.
With a background in journalism, Craig Carlson studied cinema at the University of Southern California where he directed an award-winning short film and won the prestigious John Huston Directing Award. In 2003, he completely shifted gears and opened the first American diner in Paris. He's been serving hearty breakfasts to hungry customers from all over the world ever since. Craig wrote a NYT bestselling memoir about the experience entitled Pancakes in Paris. His next book, Let Them Eat Pancakes, is set to be released in the summer of 2020.
Craig's talk will be followed by a book sale and signing– with free pancakes for all!
Photo by Stephane Cugnier
Related Events