(Hybrid) News as a Public Good with Julia Cagé
April 27 @ 19 h 30 min

-

20 h 30 min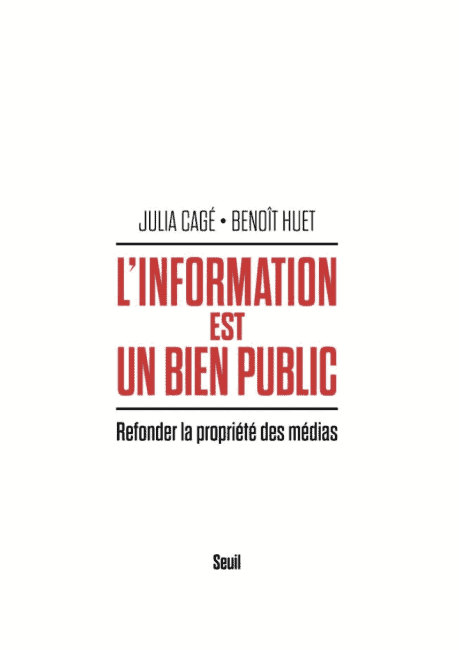 Join Evenings with an Author (in person and online*) to discuss
News as a Public Good
with economist Julia Cagé
Click here to RSVP
We face a crisis of faith in the media. From fake news to online misinformation campaigns, the knowledge economy arrives at a pivotal moment. In her work L'Information est un bien public (2021), Sciences Po economist Julia Cagé addresses this broken relationship between the media and the public, and offers a radical, structural solution.  
Cagé's argument is not that media content needs revision, but that its organizational and economic structure must be reworked. Arguing for a change in tax rules on the basis of the media's role as a public good, Cagé offers a stabilized and decentralized solution for an industry constantly in flux. At stake is the free press, which is to say, democracy itself.
Click here to RSVP
About the speakers:
Julia Cagé is Associate Professor of Economics at Sciences Po and a Research Fellow at the Center for Economic Policy Research. Cagé is the author of five books. Sauver les médias (2015) was awarded the 2016 Special Jury Prize for Best Books on Media by the Assises du Journalisme, and Le prix de la démocratie (2018) was awarded the Prix Ethique by Anticor and the Prix Pétrarque de l'Essai France Culture-Le Monde. She published Pour une télé libre contre Bolloré in 2022 of this year.
Registration required. Free and open to the public.
*The discussion will be available both online and in person. While the conversation will happen in person (Cagé will appear in the Reading Room), the Library will stream the conversation on Zoom for a live viewing experience. Both in-person and online attendees will be able to pose questions.
Click here to RSVP
••••••••••••••••••••••••••••••••••••••••
Important on-site information regarding COVID-19: Masks remain strongly recommended, per the French Ministry of Health.

Related Events