(Hybrid) The Centennial of Ulysses with Adam Biles, Alice McCrum & Lex Paulson
June 16 @ 19 h 30 min

-

21 h 00 min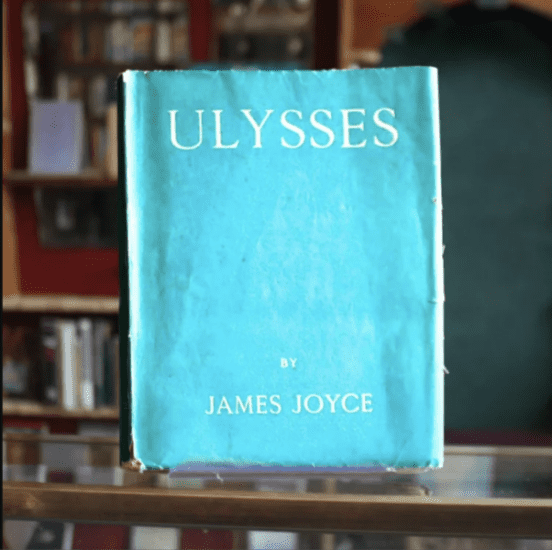 Join Evenings with an Author (in person and online*) to celebrate
Bloomsday
with Bloomcast podcast hosts Adam Biles, Alice McCrum & Lex Paulson
Click here to RSVP
In 1924, celebrated author James Joyce mentioned in a letter that he had recently learned of "a group of people who observe what they call Bloom's day–16 June." Named for Ulysses protagonist Leopold Bloom, what is now known as Bloomsday is celebrated yearly on June 16th, the day in 1904 that Ulysses takes place. This year, as we mark the centennial of the publication of Ulysses through famed Paris bookstore Shakespeare and Company, the Library is thrilled to be hosting Programs Manager Alice McCrum, Literary Director of Shakespeare & Co. Adam Biles, and Dr. Lex Paulson for a live recording of their Ulysses-themed podcast, Bloomcast. 
Following a day of celebration of Ulysses at Shakespeare and Company, this event at the American Library will mark the grand finale of Bloomcast. McCrum, Biles, and Paulson will be discussing the book's famous ending, their overall reading experiences, and their final thoughts on Joyce's magnum opus. Join them as they muddle, for one last time, through this radical, sublime, and often misunderstood novel first published one hundred years ago, in 1922.
Click here to RSVP
About the speakers:
A student of environmental policy at Sciences Po-Paris, Alice McCrum runs programming at the American Library in Paris.
In between fits of Joycean nerdery, Dr. Lex Paulson is Executive Director of the School of Collective Intelligence at Université Mohammed VI Polytechnique in Morocco. An adopted Parisian, he teaches at Sciences Po-Paris and writes on the past and future of democracy.
Adam Biles is Literary Director at Shakespeare and Company, Paris. He is the author of the novel Feeding Time, available in French as Défense de nourrir les vieux.
Registration required. Free and open to the public.
*The discussion will be available both online and in person. While the conversation will happen in person (McCrum, Paulson, and Biles will appear in the Reading Room), the Library will stream the conversation on Zoom for a live viewing experience. Both in-person and online attendees will be able to pose questions.
Click here to RSVP
••••••••••••••••••••••••••••••••••••••••
Important on-site information regarding COVID-19: Masks remain strongly recommended, per the French Ministry of Health.

Related Events