A Panel with Will Cox and others on Artists of this Generation in Paris
4 December 2019 @ 19 h 30 min

-

21 h 00 min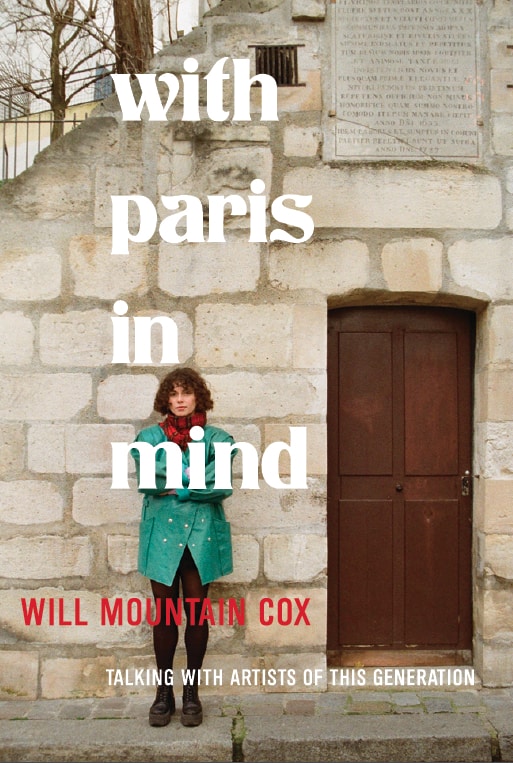 Please join us for a night of conversation with four young, Paris-based artists while discussing the new book With Paris in Mind: Talking with Artists of This Generation. The book's author, Will Mountain Cox, will be joined by three artists profiled in the book: writer Nina Leger, photographer Romy Alizée, and filmmaker Yotam Ben David. The four will discuss what it means to be a young artist in Paris in contemporary society, and how that contemporary society is affecting artistic creation.
Will Mountain Cox is an American-born writer living in Paris; he serves on the Artistic Committee of the Mona Bismarck – American Center for Art and Culture. His work has been published in The Bohemyth, For Every Year, and the aleï journal. In 2013, Will founded the Belleville Park Pages, which published more than 300 writers from 35 countries in three years and was described by Monocle as "the perfect, intelligent way to distribute new writing." He holds degrees from Boston University and from Sciences Po in Paris, where he was named Graduate of Honor in 2017 for his research on the sociology of technology and urban life.
Nina Leger was born in 1988 in Antibes. Her first novel, Histoire naturelle, was published in 2014. Mise en pièces (Gallimard, 2017), her second novel, won the Anaïs Nin Prize. It has been published in English by Granta as The Collection. Nina Leger teaches Art History at the Ecole des Beaux-arts de Marseille. (photo by Francesca Mantovani)
In 2018, photographer and sexworker Romy Alizée published a first photobook Furie and she also wrote an opinion column about sexist censorship of social medias for Libération. She co-directed a first short movie "Romy & Laure et le secret de l'Homme Meuble" in 2019. Her work has been featured in Dazed, Libé, ID Vice, and Les Inrocks, among others. (photo by Linda Trime)
Yotam Ben-David studied film at the Minshar School of Arts in Tel Aviv, and graduated from with honors. "Remains," his graduation film project, was selected to many film festivals world wide and won Best Short Film award at the Jerusalem International Film Festival 2013 and Best Short Film at the Mallorca International Film Festival. His medium length film "Thunder from the Sea" premiered at FIDMarseille 2018 were it won the meta fondation award. He currently lives in Paris, France where he is developing the script for his first feature-length film titled "Over Time and Distance". The project was selected to participate at Cannes Film Festival's Atelier Cinéfondation 2019.
A book sale with Nina and Will's books will follow the panel discussion.
You can discovery Romy's work at:
https://www.romyalizee.fr/
https://www.instagram.com/romixalizee/?hl=en
Yotam would like to invite anyone with interest to see his latest film "Thunder from the Sea" at the Festival Chéries-Chéris:
20 nov. 17h30 at mk2 Quai de Seine
22 nov. 13h25 at MK2 Beaubourg
His two other shorts are available online with english subtitles at:
https://kinoscope.org/v/long-distance/
https://kinoscope.org/v/remains-hishaarut/
Related Events