Lending for ninety-eight years
The American Library in Paris is the largest English-language lending library on the European continent. The Library's 4,000 members representing 60 countries enjoy access to 100,000 books, current and historical periodicals, audio-visual materials, plus extensive reference and research resources in paper and electronic form. Its signature programming includes children's and teen activities, evening speakers, and book groups – all in a newly-renovated space near the Eiffel Tower.
The Library was established in 1920 under the auspices of the American Library Association and the Library of Congress with a core collection of books and periodicals donated by American libraries to United States armed forces personnel serving their allies in World War I. It operates as a non-profit cultural association in France and is incorporated under the laws of Delaware.
Greetings from the Director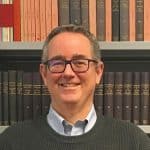 Welcome to the Library! This is a warm, welcoming place to devour books, exchange ideas, and encourage the next generation of readers. Come to an evening program when world-class writers talk literature or politics, or pass by some afternoon when youngsters listen in rapt attention to our storytellers.  You'll see what a wonderful place the Library is. Join our community. Join the Library.
                                                        Jeff Hawkins
Library program videos online
Thanks to the fast work of video editing intern Sabina Cristian, more and more program videos, past and present, are being uploaded weekly. Watch and share videos of Library programs including Wendell Steavenson interviewed by The Atlantic's Rachel Donadio about her book Paris Metro, Clotilde Dusoulier's talk about her book Tasting Paris, Sir David Hare's spirited, entertaining talk about Oscar Wilde, Reza Aslan's 2014 presentation of his book about the life of Jesus, David Lebovitz's conversation with Alexander Lobrano, Natalie Moore presenting her book about segregation on Chicago's South Side, and many more. The full archive is here: www.americanlibraryinparis.org/videos
The American Library in Paris has been lending since 1920. Help sustain this vital institution in its 98th year of service by donating today.
Upcoming Events
Events List Navigation
The Library is thrilled to announce that actress Kristin Scott Thomas will be in conversation with former New York Times cultural correspondent (and Library member and…
+ Export Events
Subscribe to e-Libris, our bi-weekly e-newsletter