(Online) The Subversive Simone Weil
January 25 @ 19 h 30 min

-

20 h 30 min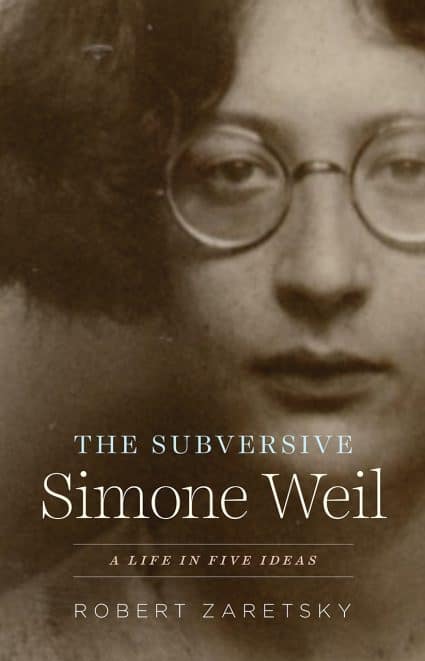 Join Evenings with an Author (online) to discuss
Simone Weil: A Life in Five Ideas
with Professor Robert Zaretsky
Click here to RSVP
In 1929, Simone de Beauvoir and Simone Weil, both students, had a brief and heavily-mythologized confrontation. Having started the conversation, de Beauvoir stressed her belief in human freedom. Weil responded that feeding humankind took priority. And when de Beauvoir maintained her initial point, Weil told her, quite simply, "It is easy to see you have never gone hungry." 
Simone Weil was in a particularly suited position to make this retort, having renounced her bourgeois background in order to, among other pursuits, work in a car factory and volunteer in the Spanish Civil War. A Marxist and an anarchist, as well as, later, a Catholic mystic, Weil and her life present many enigmas. The supreme achievement of researcher and writer Robert Zaretsky's new book, The Subversive Simone Weil: A Life in Five Ideas, is its reading of the complexities of Weil's work as complementary contradictions of her life. Identifying five central concepts from Weil's writing, Zaretsky deftly explores each one by way of Weil's biography, demonstrating how her experience informed and inspired her politics and ethics. An original approach to an original philosopher, Zaretsky unifies Weil's actions with her thought, arguing that, above all, the philosopher conceived of ideas as, first of all, practice. 
Click here to RSVP
About the speaker:
Robert Zaretsky is a professor of Modern and Classical Languages at the University of Houston, specializing in European political and intellectual history. He is the author of many works, including A Life Worth Living: Albert Camus and the Quest of Meaning (2013), Boswell's Enlightenment (2015), and the forthcoming Victories Never Last: Reading and Caregiving in a Time of Plague (2022). Zaretsky is a frequent contributor to the New York Times, Washington Post, and Boston Globe, and is the former history editor for the Los Angeles Review of Books.
Registration required. Free and open to the public.
Click here to RSVP

Related Events