(Online) Entre Nous: The Future of the Humanities with Roosevelt Montás and Andrew Delbanco
April 29 @ 19 h 30 min

-

20 h 30 min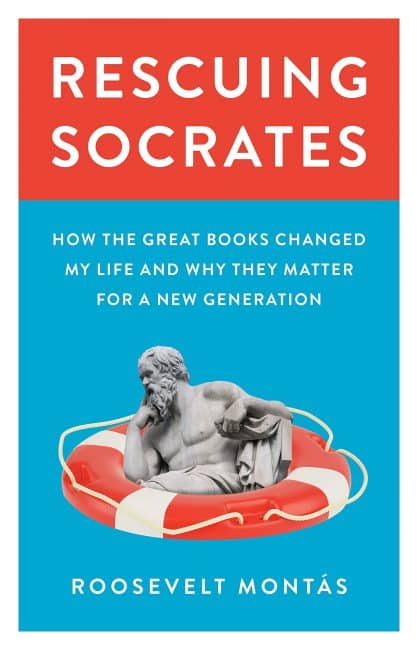 Are the humanities in crisis? What to do with the hotly-contested idea of the (hard to define) canon? In the midst of an American identity crisis, are the liberal arts struggling to articulate their method, content, and goals? Should students still read the canon? How might it be taught? Should we work to expand its limits, or should we be abolishing it entirely? In his new book, Rescuing Socrates, Columbia University Professor Roosevelt Montás argues that the humanities must not relinquish its Great Books.
Click here to RSVP
As part of the Entre Nous series in collaboration with Columbia Global Centers | Paris and the Institute for Ideas and Imagination, Montás will be discussing Rescuing Socrates, with Columbia Professor Andrew Delbanco. Drawing on his experience as a Dominican-born, low-income undergraduate at Columbia discovering Augustine, Plato, and Gandhi for the first time through the university's Core Curriculum, Montás makes a case for the liberal arts. Similarly advocating for the humanities as a force for good is  Delbanco who, in his position as trustee for the Teagle Foundation, works to strengthen liberal arts education by increasing its accessibility. In conversation, the two will consider the challenges the humanities face, the ways they need to change, and what they offer in the contemporary age.
Click here to RSVP
About the speakers:
Roosevelt Montás is senior lecturer at Columbia's Center for American Studies. From 2008 to 2018, he served as director of Columbia's Center for the Core Curriculum and Associate Dean of Academic Affairs at Columbia College. Montás is director of Columbia's Freedom and Citizenship Program, which instructs low-income high school students on the foundational texts of the Western political tradition. 
Andrew Delbanco is the Alexander Hamilton Professor of American Studies at Columbia University. He is the author of nine books, including College: What It Was, Is, and Should Be (2012). Delbanco is a fellow of the American Academy of Arts and Sciences, a member of the American Philosophical Association, and a trustee of the Teagle Foundation and the Library of America. He was awarded a National Humanities Medal by Barack Obama in 2012.
Click here to RSVP






Related Events