Tales of Resistance (Batalion & Magida)
July 13 @ 19 h 30 min

-

20 h 30 min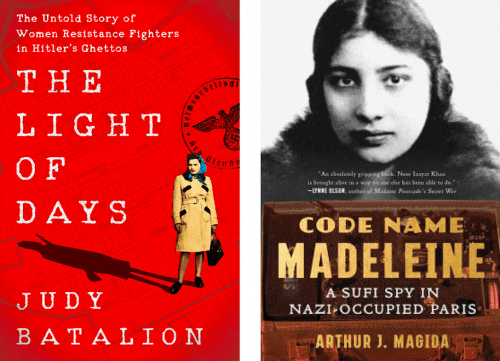 Join Evenings with an Author (online) to discuss
Tales of Resistance
with writers Judy Batalion and Arthur Magida
Batalion's latest book, The Light of Days: The Untold Story of Women Resistance Fighters in Hitler's Ghettos is a spectacular, searing history that brings to light the extraordinary accomplishments of brave Jewish women who became resistance fighters—a group of unknown heroes whose exploits have never been chronicled in full, until now.
Magida's Code Name Madeline: A Sufi Spy in Nazi-Occupied Paris follows the captivating story of the valiant Noor Inayat Khan, daughter of an Indian Sufi mystic and unlikely Second World War heroine. Carefully distilled from dozens of interviews, newly discovered manuscripts, official documents and personal letters, the book is both a compelling, deeply researched history and a thrilling tribute to Noor Inayat Khan, whose courage and faith guided her through the most brutal regime in history.
Judy Batalion is the New York Times bestselling author of the highly-acclaimed The Light of Days: The Untold Story of Women Resistance Fighters in Hitler's Ghettos. The Light of Days has been published in a young readers' edition, will be translated into nineteen languages and has been optioned by Steven Spielberg for a major motion picture for which Judy is co-writing the screenplay. Judy is also the author of White Walls: A Memoir About Motherhood, Daughterhood and the Mess in Between, optioned by Warner Brothers, and her essays have appeared in the New York Times, Washington Post, the Forward, Vogue, and many other publications. Judy has a BA in the History of Science from Harvard and a Ph.D. in the History of Art from the Courtauld Institute, University of London, and has worked as a museum curator and university lecturer. Born in Montreal, where she grew up speaking English, French, Hebrew, and Yiddish, she lives in New York with her husband and three children.
Arthur J. Magida has been a professor at Georgetown University and the University of Baltimore, a columnist for Beliefnet.com, a contributing correspondent to PBS's Religion & Ethics Newsweekly, senior editor of the Baltimore Jewish Times, environmental reporter for National Journal, a writer/editor for Ralph Nader. and a consultant to the Holocaust Museum in Washington. Two of his highly praised books — Code Name Madeleine and The Nazi Séance — have been optioned for films. His other books include The Rabbi and The Hit Man and Prophet of Rage. A graduate of Marlboro College and Georgetown, he has written for Newsweek, The Washington Post, The Boston Globe, The Jerusalem Report and Geo Magazine as well as received multiple Simon Rockower Awards from the American Jewish Press Association, A.D. Emmart Awards for writing on the humanities and Smolar Awards for Excellence in Jewish Journalism. He lives in Baltimore, Maryland.