(Hybrid) An Evening of Jean de La Fontaine
November 16 @ 19 h 30 min

-

20 h 30 min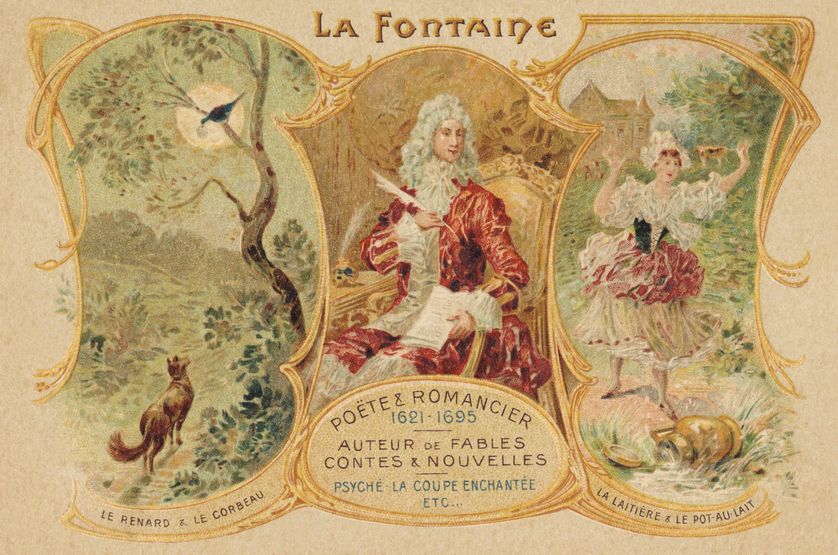 Join Evenings with an Author (in person and online) to celebrate the work of
Jean de La Fontaine
with Christopher Carsten and Odile Doutriaux-Mouterde 
Click here to RSVP for the in-person event
Click here to RSVP for the online event
Join Evenings with an Author to celebrate Jean de La Fontaine, a French poet whose 17th century Fables rank among the greatest masterpieces of French literature. Born in 1621 to a family of bourgeois civil servants, La Fontaine obtained a lawyer's diploma in 1649. As a student, he spent most of his time in literary circles, writing poems and stories. The Fables represent the peak of La Fontaine's achievement. A brief discussion about La Fontaine, as well as his most famous fables with translator Christopher Carsten will be followed by a live performance of his poetry by Odile Doutriaux-Mouterde and Carsten. Performed poems will include "The Wolf and the Lamb," "The Rat Who Retired From The World," and "La Fille," among others. 
Click here to RSVP for the in-person event
Click here to RSVP for the online event
About the speakers:
Christopher Carsten
After earning a BA from St John's College, Carsten joined the French Department at Yale University, where he received MA and MPhil degrees in French literature. 
Since the early 1990s, Carsten has lived in Aix-en-Provence, where he has taught English literature at the Université d'Aix-Marseille, and philosophy and world literature at the private American institute, I.A.U. Over the years, Carsten has published various translations of La Fontaine's fables: Fables of La Fontaine in 2005 for the University of Washington Press; 25 Fables Jean de La Fontaine in 2015 for Librairie Editions Tituli; and Wolves, Frogs & Other Beasts in 2020 for Archétype Press. 
Odile Doutriaux-Mouterde
A former lawyer, psychologist, and a current family mediator, Doutriaux-Mouterde has studied singing with Françoise Semellaz, Jean-Louis Bindi and Nicole Uzan, among others. Especially attracted to the baroque period, Doutriaux-Mouterde obtained her CEM in baroque singing at the Conservatoire de Musique de Melun. She has also worked with Sylvie Portal, former choir director of the Aria de Paris.
Looking to treaties which illustrate the authentic gestures of eloquence and movement from the baroque period, Doutriaux-Mouterde practices performance techniques from the 17th century. Specifying that her performance is not a question of reinvention, but rather of restitution, she practices the Fables of La Fontaine in particular. Doutriaux-Mouterde has participated twice in the Haydn Festival of La Roche-Posay.
Registration required. Free and open to the public.
*The discussion will be available both online and in person. While the conversation will happen in person (Carsten and Doutriaux-Mouterde will appear in the Reading Room), the Library will stream the conversation on Zoom for a live viewing experience. Both in-person and online attendees will be able to pose questions.
••••••••••••••••••••••••••••••••••••••••
Important: on-site information regarding COVID-19
In compliance with French regulations, a pass sanitaire is required for all visitors ages 12+. Visitors ages 6+, staff, and volunteers are required to wear masks on the premises.

Related Events