A Public Panel on French Strike Culture
26 February 2020 @ 19 h 30 min

-

21 h 00 min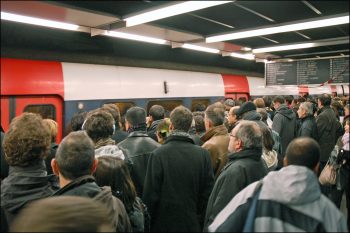 Please join us for a public panel on the topic of French strike culture and mentality. The event will be moderated by Adam Nossiter (New York Times), and feature discussants James McAuley (Washington Post), Sylvie Kauffmann (Le Monde), and Philippe Askenazy (CNRS). Panelists will address the history and politics of French strikes in a broad manner. For example, what can/do strikes achieve? What role do unions play in organizing strikes and assisting with negotiations? Why do the French tolerate–indeed, support–such frequent disruptions? How has the tone, frequency, or length of strikes changed in recent years, especially in the context of the Gilets Jaunes and instances of violence against police, protesters, and property?
There will be limited time for audience questions following the panel.
Before becoming Paris Bureau Chief, Adam Nossiter was a Paris correspondent for The New York Times since July 2015. Previously, Nossiter served as the West Africa bureau chief for The Times, starting in 2009. He served as a Times national correspondent in New Orleans from 2006 to 2009.
James McAuley is Paris correspondent for The Washington Post focusing on French and European politics and culture. Education: University of Oxford, DPhil in history; Harvard University, BA in history and literature. He also holds a PhD in French history.
Philippe Askenazy is senior researcher at the CNRS-Centre Maurice Halbwachs and professor of economics at the Ecole Normale Supérieure. He is a specialist of industrial relations. His next book Share the Wealth: How to End Rentier Capitalism,  will be published Fall 2020. He is also the author of The Blind Decades: Employment and Growth in France, 1974-2014.
Sylvie Kauffmann is editorial director and columnist at Le Monde as well as a contributing writer at the New York Times. Previously, she served as a foreign correspondent stationed in various locations, including London, Warsaw, and Moscow, for Agence France-Presse.
Related Events