Paris is the place for people who love prose and art. Every night, there are events for the Anglophone community. Unsure of what to do this week? We've got recommendations for you!
On Monday 2

May 7:00pm at Shakespeare & Company
I DON'T READ FICTION BUT MY WIFE DOES. WOULD YOU SIGN THE BOOK TO HER? Siri Hustvedt and Celine Curiol discuss the strange cultural biases against fiction in general, and fiction written by women in particular. What do sex and gender mean in a literary form? It is true that all over the world women consume far more fiction than men. Why? What is at work here? More questions, some possible answers, several jokes, and a lively dialogue are guaranteed.
Siri Hustvedt is the author of Reading To You, a poetry collection, three collections of essays, Yonder, Mysteries Of The Rectangle: Essays On Painting and A Plea For Eros, and a non-fiction work, The Shaking Woman: A History of My Nerves. She has also written five highly acclaimed novels.
Céline Curiol has lived in New York, London and Buenos Aires. She is the author of three novels published in France by Actes Sud. Her first novel was translated into 15 languages, and in English was published by Faber & Faber as Voice Over.
On Tuesday 3 May at 7:30 pm at The American Library in Paris
Chris Boicos presents the two empresses of Paris with a lecture and slideshow.
The two Bonaparte emperors of France Napoleon I and his nephew Napoleon III had the fortune of marrying women whose intelligence, taste, charm and involvement in the culture and the arts would leave a deep mark on their respective historical periods.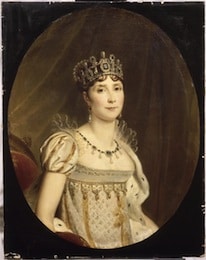 Joséphine de Beauharnais, was born Marie-Josèphe-Rose de Tascher de La Pagerie, in 1763 in a plantation family in Martinique. She is one of the great survivors of a tumultuous age. In 1796 she married a rising general, 6 years her junior, Napoleon Bonaparte who in 1800 became the ruler of France. In 1804 she was crowned Empress in Notre Dame cathedral despite the resentment of the Bonaparte family and Napoleon's mother Laetitia. In 1809 her inability to bare children for the new dynasty will lead to a humiliating divorce. She, however, will keep her famous country residence, Malmaison and an extravagant income. In our lecture we will focus on her story, that of her collections and her distinctive contribution to the style of the Napoleonic period.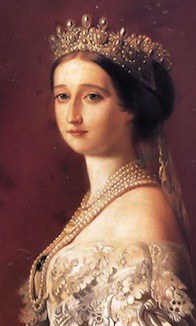 Eugénie was considered one of the great beauties of her age. Her sentimental role model was the beautiful and tragic Marie Antoinette. The hooped skirts of the period with their wide crinolines made by her favorite couturier, Worth, as well as the interior decoration of the imperial palaces, the Tuileries or Compiegne, reflected the styles of the reign of Louis XVI.
She patronized artistic and literary luminaries like Merimée, Georges Sand or Flaubert, the architect Viollet-le-Duc and the painters Winterhalter, Rosa Bonheur, Dubuffe and Riesener.
Chris Boïcos, founder of Paris Art Studies, is a former art history professor at the University of Delaware and the University of Southern California in Paris.
On Wednesday 4 May at 7:30 pm at The American Library in Paris
We will hear "The Strange Case of the Two Mr. Porters." Fiction writer Joe Ashby Porter's books are the novels Eelgrass, Resident Aliens, and The Near Future, and the collections The Kentucky Stories, Lithuania: Short Stories, Touch Wood: Short Stories, and All Aboard: Stories.  His Le future proche (transl. Bernard Hoepffner) was published in April by Joëlle Losfeld/Gallimard.  His awards include two NEA Creative Writing Fellowships, and an Academy Award in Literature from the American Academy of Arts and Letters with the commendation, "No writer of his gifted generation has shown greater daring, or has earned higher praise."
Shakespearean Joseph A. Porter's books are Shakespeare's Mercutio: His History and Drama, The Drama of Speech Acts: Shakespeare's Lancastrian Tetralogy, and (edited) Critical Essays on Shakespeare's Romeo and Juliet, as well as eight annual volumes of Renaissance Papers.  He is a contributor, with an entry "Mercury" about Shakespeare's (and his) favorite deity, to the new five-volume Shakespeare Encyclopedia (ed. Patricia Parker, Greenwood), and he is Editor-in-Chief of the New Variorum Othello in progress.
Professor of English and Theater Studies at Duke University, where they have taught since 1980, the two Mr. Porters are spending the 2010-11 academic year on sabbatical in Paris.
On Thursday May 5th at 7:00 pm at the Village Voice

Vendela Vida
will read from and discuss her book,
The Lovers
which concerns itself with paradoxes of intimacy: isolation within a closely tied family and the unexpected affection between strangers from different cultures. Twenty-six years after her honeymoon in Datça, Turkey, recently widowed Yvonne returns to the Turkish peninsula not to relive the early happy days of her marriage but to remember them. Instead, she finds herself haunted by the many struggles she and her husband faced, above all the wedge driven between them by the antics of their alcoholic daughter, Aurelia. As Yvonne explores the town and its surrounding beaches, she starts to settle into her new identity as a widow and finds herself under a microscope as an American tourist traveling alone. A fast friendship with a young Turkish boy eases Yvonne's loneliness, but it also sparks the disapproval of several locals, leading to a climactic conversation and a quiet epiphany.
An American novelist, journalist and editor, Vendela Vida is the author of three previous books; Girls on the Verge , And Now You Can Go and Let The Northern Lights Erase Your Name. She is also co-founder and co-editor of the literary magazine, The Believer , and collaborated with Dave Eggers on the screenplay of the 2009 Sam Mendes film, Away We Go .
Friday 6

May at 7:00pm Shakespeare & Company
Shakespeare expert and prize-winnng author Professor James Shapiro, will speak about his latest book Contested Will – who did write Shakespeare's plays? And why does it matter so much to us? James Shapiro's fascinating search for the source of this controversy retraces a path strewn with fabricated documents, calls for trials, false claimants, concealed identity, bald-faced deception and a failure to grasp what could not be imagined.
For two hundred years after Shakespeare's death, no one thought to argue that somebody else had written his plays. Since then dozens of rival candidates – including Sir Francis Bacon and the Earl of Oxford – have been proposed as their true author.
Professor James Shapiro, who teaches at Columbia University in New York, is the author of Rival Playwrights, Shakespeare and the Jews, and Oberammergau: The Troubling Story of the World's Most Famous Passion Play. 1599: A Year in the Life of William Shakespeare won the BBC FOUR Samuel Johnson Prize in 2006.