Sweets for the sweet…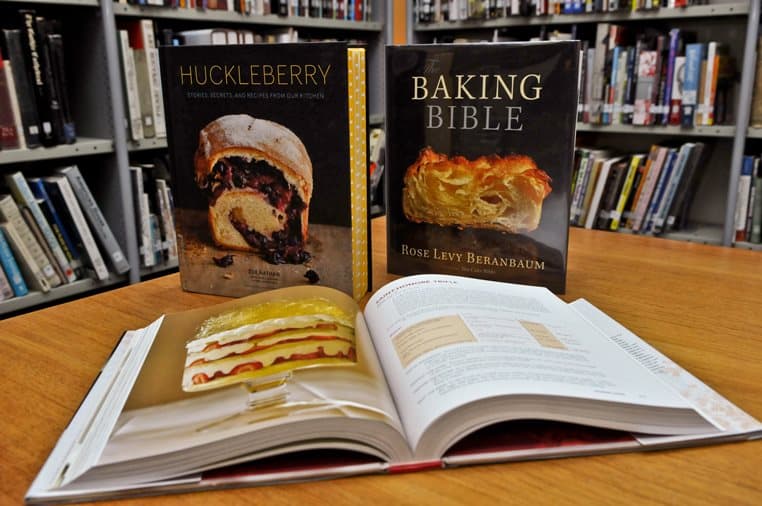 Everyone seems to have a different opinion about how best to spend Valentine's Day. There are certainly enough prix-fixe menus for this special day in restaurants all around Paris, like everywhere else on that day. For those who prefer to not dine with other date-night couples in packed restaurants all eating the same food, there is always the stay home and make-it-yourself option. This is where the Library can be most useful in that venture.
We've recently acquired some new baking cookbooks and what better way to impress your loved ones than with a sweet concoction that you made yourself. As Valentine's Day falls on a Saturday, kick off the day by making a breakfast of beignets and coffee from Huckleberry by Zoe Nathan. This primarily breakfast cookbook chronicles the daily baking of scones, muffins, doughnuts, and breakfast items at the famed Huckleberry Bakery & Café in Santa Monica, CA. There is a whole chapter devoted to making coffee drinks, so there is a chance that you can become an instant barista.
For a much fancier experiment, and maybe for later in the day, try the Saint Honoré Trifle from Rose's Heavenly Cakes by Rose Levy Beranbaum. Certainly not for the faint-hearted, this gorgeous confection is made with sponge cake, Chiboust cream, strawberries (alas not the right season, but they can be found), whipped cream and, of course, spun sugar. It takes about 2 days of preparation, so checking out the book now is a good idea. What better way is there of expressing love than a premeditated cake, certainly more than a last-minute bouquet of flowers.
And if you just want to bake something home-made, try anything out of Baking Bible, also by Rose Levy Beranbaum. Many cookbooks out there claim to be the bible of something, but fans of Beranbaum claim that she is the one and only authority on baking. Her tips for fool-proof baking and meticulous instructions will make any novice cook a better baker. When better to become less fearful than on a day like Valentine's Day. Happy reading and baking!
Photo credits: Krystal Kennedy