Evenings with an Author: Xiaolu Guo in Conversation with Catherine Olien
January 29 @ 19 h 30 min

-

21 h 00 min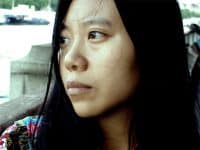 Join us for a conversation with Xiaolu Guo at the American Library in Paris. A book sale and signing will follow the discussion.
Xiaolu is a Chinese-British author and filmmaker whose work explores isolation, physical and emotional poverty, migration, and the boundaries of language. Her recent autobiography, Nine Continents: A Memoir In and Out of China, chronicles her life from the rural fishing village of her youth to her training at the Beijing Film Academy, and finally, to her life in London as an artist in exile. Bringing an Eastern upbringing and perspective to her Western experiences in her adult life, Xiaolu makes visible to her readers the pain and exhilaration of navigating a life between two worlds.
Currently a Fellow at Columbia's Institute for Ideas & Imagination, Xiaolu is the author of several award-winning novels in Chinese and English, including A Concise Chinese-English Dictionary for Lovers, written in broken English during her early years in the UK and shortlisted for Orange Prize for Fiction 2007. Nine Continents appeared on the Costa Book Awards shortlist and won the 2018 National Book Critics Circle Award. Her films have received numerous prizes, funding, and support from major European festivals and institutions.
Themes for the discussion will include feminist writing, using (and abusing) English–an "imperial" language–as a non-native English speaker, exploring trauma in different genres and artistic practices, identity formation, censorship, and resilience.
Catherine Olien, Programs Coordinator at the American Library, holds a PhD in Art History from Northwestern University and is interested in artistic exchange and interaction, especially between East and West. Her doctoral dissertation, "Between Classicism and Orientalism: The Reception of Ancient Cypriot Sculpture, 1860-1900," analyzes the discovery of Cypriot sculpture by Western archaeologists and its display in the Louvre and British Museums. 
Evenings with Authors and other weeknight programs at the Library are free and open to the public (except as noted) thanks to support from the Annenberg Foundation, our members, and those who attend programs. There is a suggested donation of ten euros for non-members. Doors open at 19h00.
Related Events