Workshop discussion: Love When You Least Expect It – Roni Beth Tower
11 February 2018 @ 14 h 30 min

-

16 h 30 min
Roni Beth Tower, author of the memoir, Miracle at Midlife: A Transatlantic Romance and a retired clinical, research and academic psychologist, leads a discussion about love, loving, and what it may take to transform your life mid-stream.
During her workshop, she will briefly describe her own story and then explore issues relating to how we experience love, how we express love, challenges and changes in mid-life, and long-distance relationships, according to the interests of participants.  This workshop promises to be an interesting discussion for all those in attendance who may have similar experiences in their lives.  In any case, there will be lots to talk about.
To sign up for this workshop, please RSVP to programs manager Grant Rosenberg, (rosenberg@americanlibraryinparis.org). It is free for members, while non-members will need to buy a Library daypass.
About the discussion leader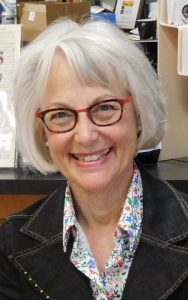 Roni Beth Tower is the author of the award-winning memoir, Miracle at Midlife: A Transatlantic Romance. She publishes regularly on PsychologyToday.com at "Life, Refracted", and on her personal blog, Love is Real. Her most recent essay, describing life on a peniche in the center of Paris, was featured in BonjourParis.com. Many of her other popular and scientific articles are described on her website, www.miracleatmidlife.com. Dr. Tower earned a BA in Religion at Barnard and a PhD in clinical psychology at Yale. She was a Research Affiliate in Epidemiology and Public Health at Yale Medical School, where she studied aging and married couples. She practiced as a clinical psychologist for over thirty years, taught at Yale and at Columbia Teachers College, was President of the American Association for the Study of Mental Imagery, and served on the boards of Yale Alumni Fund and Connecticut Psychological Association. Currently she volunteers for Yale, the American Red Cross, and the Surrogate Decision Making Committee of the State of New York Commission on Quality of Care and Advocacy for Persons with Disabilities. Her specialty as a psychologist was close relationships.