Toddler Time (Ages 1-3) (By RSVP)
22 August 2019 @ 17 h 00 min

-

17 h 30 min
Ages 1-3
Songs, rhymes and stories in English for the very young.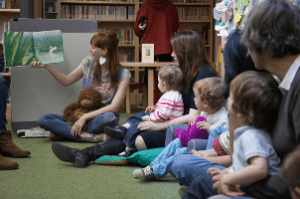 Our Toddler Time is for children ages 1-3 and their guardians. The program lasts 30 minutes and features songs, hand-rhymes and short stories in English. Parents and caregivers are expected to sit on the floor with their children beside them or in their laps and participate in the program.
With your help, we can develop and nurture your child's love of books and the library!
REGISTRATION REQUIRED!  Click HERE to register for the 17h00 Toddler Time. Questions can be sent to our children's and teens' services department via kidsandteens@americanlibraryinparis.org.
There is no 10h30 session of Toddler Time on 22 August due to the Library's Summer Hours. 10h30 sessions will resume in September. 
All children must be accompanied by an adult lap and registration is required. Children attending programs must have their own library card, or be covered by a family membership, otherwise the non-member fee applies. All programs are free for Library members and 10€ per child for non-member children. Caregivers are expected to familiarize themselves with these guidelines so that we can provide a pleasant library environment for all patrons.
Related Events