(Hybrid) Negligible Stories, Famous Families with Joshua Cohen
January 19 @ 19 h 30 min

-

20 h 30 min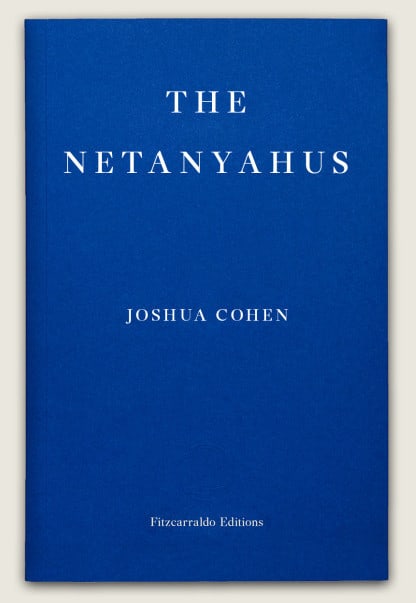 Join Evenings with an Author (in-person and online*) to discuss
The Netanyahus
with writher Joshua Cohen and professor Daniel Medin
Click here to RSVP
Set at Corbin College in a fictional, sleepy college town in upstate New York over the winter of 1959 to 1960, The Netanyahus follows Ruben Blum, a Jewish historian, as he reviews the job application of an exiled Israeli scholar whose speciality is the Spanish Inquisition. When Benzion Netanyahu, a Polish-born, Israel-based academic better known as Benjamin's father, shows up for an interview, Blum plays the reluctant chaperone to guests who proceed to lay waste to his American complacencies.
Subtitled An Account of A Minor and Ultimately Even Negligible Episode in the History of a Very Famous Family, and described as "the best and most relevant novel I've read in what feels like forever" by Taffy Brodesser-Akner for the The New York Times, Cohen's new novel mixes fiction with nonfiction, the campus novel with the lecture. The final product is a wildly inventive, genre-bending comedy of blending, identity, and politics that finds Cohen at the height of his powers.
Click here to RSVP
About the speakers:
Joshua Cohen was born in 1980 in Atlantic City. His books include the novels Moving Kings, Book of Numbers, Witz, A Heaven of Others, and Cadenza for the Schneidermann Violin Concerto; the short-fiction collection Four New Messages, and the nonfiction collection Attention: Dispatches from a Land of Distraction. In 2017 Cohen was named one of Granta's Best Young American Novelists. He lives in New York City.
Daniel Medin is an editor and professor of comparative literature at the American University of Paris.
*The discussion will be available both online and in person. While the conversation will happen in person (Cohen and Medin will appear in the Reading Room), the Library will stream the conversation on Zoom for a live viewing experience. Both in-person and online attendees will be able to pose questions. The conversation is co-sponsored by the Center for Writers and Translators and the Center for Critical Democracy Studies at the American University of Paris.
On-site information regarding COVID-19: In compliance with French regulations, a pass sanitaire is required for all visitors ages 12+. Visitors ages 6+, staff, and volunteers are required to wear masks on the premises.
Click here to RSVP

Related Events