Marielle in Paris (a reading with Maxine Rose Schur and Jeanne B. de Sainte Marie) (ages 6-10)
26 May 2018 @ 15 h 00 min

-

16 h 00 min
Join us for a fun afternoon of reading and art with creators of Marielle in Paris: Maxine Rose Schur and Jeanne B. de Sainte Marie!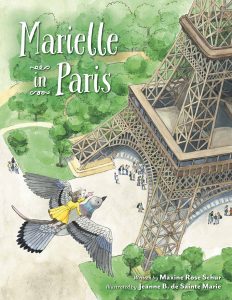 Author Maxine Rose Schur will read her new picture book Marielle in Paris, and then illustrator Jeanne B. de Sainte Marie will lead participants in a design and drawing exercise based on her illustrations.
Maxine Rose Schur is an award-winning children's book author and travel essayist. As the recipient of the Joan G. Sugarman Award given by the Washington Independent Writer's Legal and Educational Fund, Ms Schur was the Baker-Nord Guest Lecturer on Writing for Children to the Humanities faculty at Case Western Reserve University. Maxine Rose Schur writes picture books, middle grade novels and YA novels. Her latest book Marielle in Paris, tells of the brave adventure of a fashion designer mouse. To learn more about Maxine's books for children of all ages visit www.maxineroseschur.com.
Jeanne B. de Sainte Marie is an illustrator and author. Her work is published in picture books, travel notebooks, apps, children's calendars and magazines. On both sides of the Atlantic, Jeanne exhibits her artwork, which features in collections such as the Mazza Museum of International Art From Picture Books and the Bibliothèque Forney in Paris (Art and Graphic Design Library). She illustrated the iPad poetry app, A Word's A Bird with hundreds of watercolor paintings and animation drawings. The app was selected for School Library Journal's "Best of 2013" and noted for its "Caldecott Award-quality". Jeanne hails from Michigan where she studied art and textile design. For years she created color and materials for the automotive industry in Detroit and then in Paris, where she now lives. To find out more about Jeanne visit www.jeannedesaintemarie.com.
Maxine and Jeanne will be signing books following their reading. Books will be available for purchase at this event.
This program does not require advance registration, however, each child attending must have their own Library card, or be covered by a family membership otherwise the non-member fee applies. Unless otherwise stated, all programs are free for library members and 10€ for non-members. Caregivers are expected to familiarize themselves with these guidelines so that we can provide a pleasant library environment for all patrons.
Related Events