Libraries and Community Outreach: Sponsored Membership Program Celebration
29 September 2018 @ 18 h 00 min
As part of the Library's Fall Open House, we are pleased to present a discussion on the role of libraries and community outreach in highlighting the Library's Sponsored Membership Program.
The foundation of modern libraries in the U.S. rests on a set of core values, as stated by the American Library Association, including access, confidentiality/privacy, democracy, diversity, education and life-long learning, intellectual freedom, preservation, the public good, professionalism, service, and social responsibility. Many professionals and organizations in information studies and research believe that information, and access to, are social justice issues.
The Library established the Sponsored Membership Program in spring 2018 to help connect people in need with Library resources and services by offering no-cost annual memberships to eligible individuals and families. Through the Sponsored Membership Program, individuals and families with official refugee status in France and other underserved populations can gain access to our collection of 100,000 books and magazines; digital resources; comfortable, quiet study spaces; programs for children, teens, and adults; and research assistance. The Library has partnered with organizations that offer a range of services to refugees, including the Association Pierre Claver, AAWE Community-wide Refugee Task Force, and Wintegreat.
This evening event will feature Library director Audrey Chapuis as she talks about the role and trends of libraries today. A special presentation by Guillaume Soto-Mayor will offer an overview of the migration crisis in Europe and the shortcomings of the EU approach towards migration as whole. What seems to have been forgotten are the refugees, and this presentation will aim to offer a possible solution to putting them back at the forefront of how we think of migration. Guillaume will also touch on the importance of small scale and on-the-ground initiatives from non-state and non-political actors and organizations that help to welcome and integrate refugees into our societies.
This event is free and open to the public. Light refreshments will be provided.
About the speaker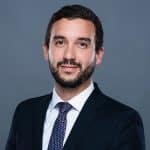 Guillaume Soto-Mayor is currently working as Head of Operations for the security-defense department of the CNAM and as an independant consultant, recently graduated with high distinction from the Foreign Service Programme at the University of Oxford. The constant thread running through his academic and professional life has been focused on international security issues and the necessity of diplomatic action to resolve it. Being confronted to a large diversity of cultures and philosophies in his studies and work, notably working for the UN, Soto-Mayor learnt that humility, integrity and appetite for continuous learning are indispensable to build trust and mutual respect.
Recommended Reading
Related Events