(Online) Lettres d'Amérique: Nana Kwame Adjei-Brenyah in conversation with Kierstan Kaushal-Carter
27 September 2021 @ 19 h 30 min

-

21 h 00 min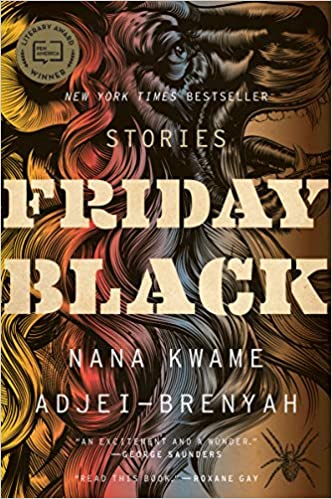 This September 2021, the American Library in Paris invites you to discover the new voices in American literature. A virtual series, Lettres d'Amérique (6–27 September) will explore issues at the heart of contemporary America: race, immigration, citizenship, historical trauma, addiction, and gun violence. The range of this year's speakers is as rich as it is diverse. There is ferocity and humor from Tommy Orange and Jenny Zhang; there is violence and memoir from Laila Lalami; and there are dark portraits of American society from Yaa Gyasi and Nana Kwame Adjei-Brenyah.
In its mission to showcase the brightest American literary talents to a French audience, Lettres d'Amérique serves as a robust preview of Festival America's twentieth anniversary celebration next September 2022. The series is co-sponsored by Festival America and the U.S. Embassy in France, in partnership with Transfuge magazine.
••••••••••
Adjei-Brenyah's inventive debut collection of short stories, Friday Black, reflects a grim portrait of American individualism run wild. Adjei-Brenyah casts his suffering male protagonists into dystopian futures, where they confront consumerism, racial injustice, and financial hardship in twelve unflinching tales.
Adjei-Brenyah was born and grew up in New York. He graduated from SUNY Albany and received his MFA from Syracuse University. His work has appeared or will soon appear in numerous publications, including the New York Times Book Review, Esquire, Literary Hub, and the Paris Review. Friday Black was published by Mariner Books in 2018.
This conversation is part of the Lettres d'Amérique conversation series organized by the American Library in Paris, the U.S. Embassy in France, Festival America and Transfuge magazine. For more information about the series, please visit: americanlibraryinparis.org/lettres.
••••••••••
En septembre 2021, the American Library in Paris vous invite à découvrir les nouvelles voix de la littérature américaine. Une série virtuelle, Lettres d'Amérique (6–27 septembre) explorera les questions au cœur de l'Amérique d'aujourd'hui : race, immigration, citoyenneté, traumatismes historiques, addiction et violence armée. L'éventail des intervenants de cette année est aussi riche que varié. De la férocité et de l'humour avec Tommy Orange et Jenny Zhang ; à la violence et aux mémoires avec Laila Lalami ; en passant par les sombres portraits de la société américaine de Yaa Gyasi et de Nana Kwame Adjei-Brenyah.
Dans sa mission de présenter les plus brillants talents littéraires américains à un public français, Lettres d'Amérique sert d'avant-première à la célébration du vingtième anniversaire du Festival America en septembre 2022. La série est soutenue par le Festival America, l'ambassade des États-Unis d'Amérique en France et Transfuge.
••••••••••
Friday Black, l'inventif premier recueil de nouvelles d'Adjei-Brenyah, reflète un portrait sinistre de l'individualisme américain à outrance. Adjei-Brenyah place ses protagonistes masculins souffrants dans un futur dystopique, où ils sont confrontés au consumérisme, à l'injustice raciale et aux difficultés financières dans douze contes implacables.
Adjei-Brenyah est né et a grandi à New York. Titulaire d'un B.A. de SUNY Albany, il a suivi un master de création littéraire de l'université de Syracuse. Ses écrits ont été publiés ou seront bientôt publiés dans de nombreuses publications, notamment le New York Times Book Review, Esquire, Literary Hub, and le Paris Review. Friday Black a été publié par Mariner Books en 2018.
Cette conversation fait partie de la série Lettres d'Amérique organisée par the American Library in Paris, Festival America, L'Ambassade des États-Unis d'Amérique et Transfuge. Pour plus d'informations, vous pouvez consulter le site : americanlibraryinparis.org/lettresfr
Related Events