Evenings with an Author: Tash Aw and Édouard Louis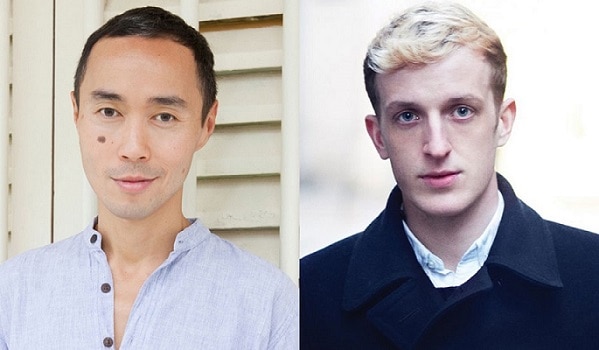 This Library is pleased to welcome writers Tash Aw and Édouard Louis as they interview each other on their forthcoming books: We, The Survivors (Aw) and Who Killed My Father (Louis).
Tash Aw's new book, We, The Survivor, focuses on a murderer's confession – devastating, unblinking, poignant, unforgettable – which reveals a story of class, education and the inescapable workings of destiny. The main character, Ah Hock, is an ordinary, uneducated man born in a Malaysian fishing village trying to make his way in a country that promises riches and security to everyone, but delivers them only to a chosen few. With Asian society changing around him, he remains trapped in a world of poorly paid jobs that just allow him to keep his head above water but ultimately lead him to murder a migrant worker. Ah Hock's vivid and compelling description of the years building up to this appalling act of violence – told over several days to a local journalist whose life has taken a different course – is a portrait of an outsider like no other.
Édouard Louis's bracing new nonfiction book, Who Killed My Father, is both a searing j'accuse of the viciously entrenched French class system and a wrenchingly tender love letter to his father. Written with searing, specific denunciations are tender passages of a love between father and son, once damaged by shame, poverty and homophobia. Yet tenderness reconciles them, even as the state is killing off his father. Louis goes after the French system with bare knuckles but turns to his long-alienated father with open arms: this passionate combination makes Who Killed My Father a heartbreaking book.
SPECIAL NOTE: A donation of 10€ per person (5€ for students) is suggested for this event. All donations collected from this evening event with Tash Aw and Édouard Louis will go to support the Library's Sponsored Membership Program, which provides no-cost memberships to individuals and families with official refugee asylum status in France. For more information about the Sponsored Membership Program, please check here.
About the Authors
Tash Aw was born in Taipei to Malaysian parents. He grew up in Kuala Lumpur before moving to Britain to attend university. He is the author of three critically acclaimed novels – The Harmony Silk Factory (2005), which won the Whitbread First Novel Award and a regional Commonwealth Writers' Prize; Map of the Invisible World (2009) and Five Star Billionaire (2013) – and a work of non-fiction, The Face: Strangers on a Pier (2016), finalist for the LA Times Book Prize. His novels have twice been longlisted for the MAN Booker prize and been translated into 23 languages. His latest book is We, The Survivors. His work has won an O. Henry Prize and been published in The New Yorker, the London Review of Books, A Public Space and the landmark Granta 100, amongst others. He is also a contributing opinion writer for the New York Times.
Édouard Louis (born Eddy Bellegueule) was born and raised in the North of France, which is the setting of his first novel, the autobiographical The End of Eddy in 2018. The book was the subject of extensive media attention and was hailed for its literary merit and compelling story. Louis grew up in a poor family supported by government welfare. The poverty, racism, and alcoholism which he dealt with in his family during his childhood would become the subject of his literary work. In 2016, Louis published his second novel, History of Violence. His recently-released third novel, Who Killed My Father, explores the deteriorating health of his father, who had been severely injured in an industrial accident. This book is a followup to article Louis wrote entitled "Why My Father Votes for Le Pen", an op-ed that was published on the front page of The New York Times in May 2017.
Related Events