Evenings with an Author: Susan Herrmann Loomis [Virtual Public Event; RSVP Required]
February 3 @ 19 h 30 min

-

20 h 30 min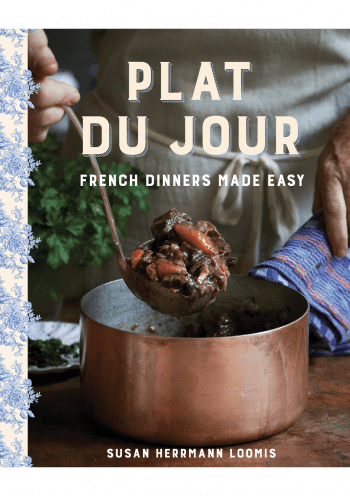 *Covid-19 Update: This winter, the Library's Evening with an Author series will continue to meet virtually, via Zoom. These events, which are free and open to the public, require advance sign up. Evenings with an Author programs begin at 19h30 (Central European Time). Please check eLibris or our programs calendar for updates and line-up.
Please follow this link to register!
Join us for a talk with chef and author Susan Herrmann Loomis as she introduces her new book, Plat du Jour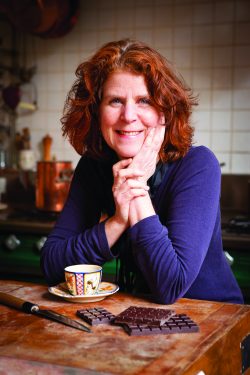 French cooking doesn't have to be complex—with Susan Loomis, it's as easy as un, deux, trois!
The spirit of the plat du jour, the dish of the day, is all about simplicity, seasonal ingredients, and joyful time at the table. it's also about the history of France, and there are historical tidbits sprinkled throughout the book which illuminate and anchor the recipes.
Whether its Boeuf Bourguignon, Poule au Pot, or a simple Salade Niçoise, the French classics in Plat du Jour, as well as the more contemporary dishes in the book are made for the home cook. In Plat du Jour Loomis, owner of On Rue Tatin cooking school in Normandy and Paris, and author of fourteen cookbooks, shows how to effortlessly transform any meal into an elegant and flavorful French masterpiece
Plat du Jour is available for pre-order from all the usual virtual spots AND your local, brick and mortar book store. For more visit www.onruetatin.com
About the author: Susan Herrmann Loomis is a France-based, award-winning author with fourteen books to her credit, a professionally trained chef, and a cooking school proprietor. Included among her titles are The Great American Seafood Cookbook, Farmhouse Cookbook, Clambakes and Fish Fries, French Farmhouse Cookbook, Italian Farmhouse Cookbook (all Workman Publishing, Inc.) and On Rue Tatin (Broadway Books. 2001) a narrative about her life in France, with recipes which won the IACP best literary food book for 2002, Tarte Tatin (Harper Collins UK, 2003), the sequel, Cooking at Home on Rue Tatin, (William Morrow, May 2005), Nuts in the Kitchen (William Morrow 2010), In A French Kitchen (Penguin, 2015), and French Grill (Countryman, 2019).
Loomis has contributed to many newspapers and magazines including the New York Times, LA Times, Boston Globe, Cooking Light, and Culture. Loomis has participated in many television and radio shows, including Good Morning America (ABC), Home Matters, Epicurious/Discovery, The Splendid Table with Lynn Rosetto Kasper@ (MPR); A Food Talk with Arthur Schwartz@ (WOR); A Good Food Hour with Evan Kleinman@ (KSRO). Loomis, who has lived in France for more than thirty years, teaches cooking and the history of French gastronomy in Normandy, Paris, and in the U.S. She is currently developing a virtual cooking and culture platform which will be live beginning at the end of December.
---
Evenings with an Author are generously sponsored by GRoW @ Annenberg
Related Events