Evenings with an Author: Nancy MacLean and Margaret R. Somers on the Current American Political Landscape
2 July 2019 @ 19 h 30 min

-

21 h 00 min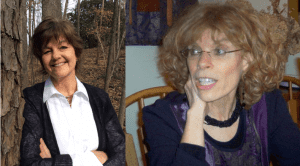 Nancy MacLean is the William H. Chafe Professor of History and Public Policy at Duke University, and the award-winning author of several books, including Behind the Mask of Chivalry: The Making of the Second Ku Klux Klan; Freedom is Not Enough: The Opening of the American Workplace; The American Women's Movement, 1945-2000: A Brief History with Documents; and Debating the American Conservative Movement: 1945 to the Present. She also served the editor of Scalawag: A White Southerner's Journey through Segregation to Human Rights Activism. Her scholarship has received more than a dozen prizes and awards, and has been supported by fellowships from the American Council of Learned Societies, the National Endowment for the Humanities, the National Humanities Center, the Russell Sage Foundation, and the Woodrow Wilson National Fellowships Foundation.
Her most recent book, about which she will speak, is Democracy in Chains: The Deep History of the Radical Right's Stealth Plan for America.  Booklist called it "perhaps the best explanation to date of the roots of the political divide that threatens to irrevocably alter American government." The Guardian said: "It's the missing chapter: a key to understanding the politics of the past half century." Democracy in Chains was a finalist for the National Book Award, and the winner of the Los Angeles Times Book Award in Current Affairs, the Lannan Foundation Cultural Freedom Award, and the Lillian Smith Book Award. The Nation magazine named it the "Most Valuable Book" of the year.
Margaret R. Somers, Professor of Sociology and History, University of Michigan, specializes in political economy, citizenship rights, and the work of Karl Polanyi. She is the author, with Fred Block, of The Power of Market Fundamentalism: Karl Polanyi's Critique (Harvard 2016), named "Book of the Year 2014" by Economic Sociology and Political Economy. Her previous book, Genealogies of Citizenship: Markets, Statelessness, and the Right to have Rights (Cambridge 2008), is a study of how market fundamentalism transforms rights-bearing citizenship into internal statelessness. Her book in-progress, Free-Market Utopianism: Dedemocratization and the Alchemy of Predistributive Political Economy, examines how the fiction of the free market obscures the role of the neoliberal state in decreasing democratic rights and redistributing income and resources to the wealthy.
Related Events