Evenings with an Author: Heather Nathans, Hideous Characters and Beautiful Pagans
1 October 2019 @ 19 h 30 min

-

21 h 00 min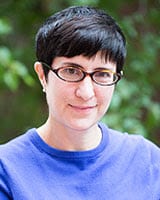 For more than 150 years before the advent of the Yiddish theatre in the US, Jewish playwrights, performers, theatre managers, and audience members proved startlingly visible in American culture.  They were often hailed as "conspicuous" — sometimes winning the support of theatre-goers and sometimes drawing viciously anti-Semitic attacks for daring to display their Jewish identity in a public forum.  Yet comparatively little is known of their careers, their motives, and their impact on American theatre history.  
Hideous Characters and Beautiful Pagans explores the ways in which representations of Jewish characters in antebellum American theatres mirrored the treatment of Jewish Americans outside the playhouse.  I examine the grotesque stereotypes as well as the characters intended to soften the image of the 'stage Jew'. These diverse types reflected the struggle of Jewish Americans to establish themselves in the new nation, while still adhering to the cultural traditions and religious doctrines of their ancestors.  Delving into a wide array of sources from diaries to tax records to political cartoons, I illuminate the history of revolutionary artists who insisted that they belonged on the stage and who ultimately paved the way for the generations that followed.
Heather Nathans is the Chair of the Department of Theatre, Dance, and Performance Studies, and the Alice and Nathan Gantcher Professor in Judaic Studies at Tufts University.  Publications include: Early American Theatre from the Revolution to Thomas Jefferson (2003); Slavery and Sentiment on the American Stage, 1787-1861 (2009); and Hideous Characters and Beautiful Pagans: Performing Jewish Identity on the Antebellum American Stage (2017). Nathans is the 2018 recipient of the Barnard Hewitt Award from the American Society for Theatre Research, the American Theatre and Drama Society's John W. Frick Book Award, and was a finalist for the Theatre Library Association's George Freedley Memorial Award for Hideous Characters and Beautiful Pagans.  She received the 2018 Betty Jean Jones Award for teaching and mentorship from the American Theatre and Drama Society.  She is also the Editor of the Studies in Theatre History and Culture series from the University of Iowa Press.
Photo by  Donna DeSimone
Related Events