A Film Screening of Frederick Wiseman's Ex Libris: The New York Public Library
2 May 2019 @ 18 h 00 min

-

21 h 30 min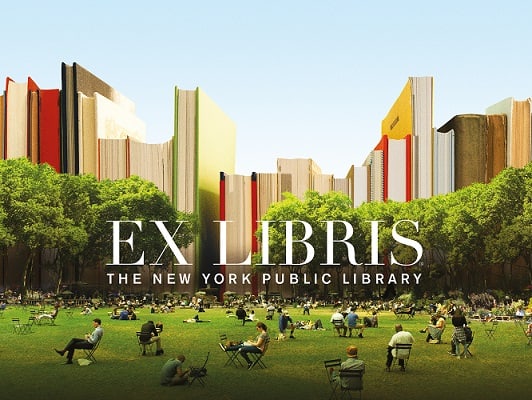 The Library is pleased to organize a film screening of Frederick Wiseman's 2017 documentary Ex Libris: The New York Public Library in partnership with Météore Films. Wiseman's film goes behind the scenes of one of the greatest knowledge institutions in the world and reveals it as a place of welcome, cultural exchange, and learning. With 92 locations throughout Manhattan, the Bronx and Staten Island, the New York Public Library is committed to being a resource for all the inhabitants of this multifaceted and cosmopolitan city, and beyond. The New York Public Library exemplifies the deeply rooted American belief in the individual's right to know and be informed. It is one of the most democratic institutions in America – everyone is welcome and it strives to inspire learning, advance knowledge and strengthen communities. The New York Times reviewed the film as "Frederick Wiseman's magnificent documentary about the New York Public Library lays bare this complex, glorious organism that is the democratic ideal incarnate." The Los Angeles Times described it as "a heartening examination of the vastness of human knowledge and the multiple ways we the people endeavor to access it."
NOTE: This film screening is free for Library members and non-members can view it by purchasing a day pass. The film Ex Libris: The New York Public Library is 197 minutes. Space is limited, please reserve a spot by filling this online RSVP form.
Participants of this film screening will be entered into a raffle drawing to win one of five pairs of complimentary tickets, courtesy of Météore Films, to view Wiseman's latest film Monrovia, Indiana at any participating theatre in Paris during its French cinematic release beginning 24 April 2019. Winners will be notified by email.
About the Filmmaker
Frederick Wiseman is regarded as one of today's greatest living documentary filmmakers. For close to thirty years, thanks to the Public Broadcast Service (PBS), he has created an exceptional body of work consisting of thirty full-length films devoted primarily to exploring American institutions, including Ex Libris – The New York Public Library (2017), In Jackson Heights (2015), and State Legislature (2006), as well as deep explorations into iconic French establishments, including La Danse – Le Ballet de l'Opera de Paris (2009), Crazy Horse (2011), and La Comédie Francaise (1996).
Related Events