Evenings with an Author, sponsored by GRoW @ Annenberg

*Covid-19 Update: This fall, the Library's Evening with an Author series will continue to meet virtually, via Zoom. These events, which are free and open to the public, require advance registration. Please check eLibris, our homapge, or our programs calendar for line-up and sign-up.
The Library hosts more than 60 evening events a year featuring authors, filmmakers, musicians, journalists, scholars, and other public figures.  All but a few of these programs are free (with a suggested donation of 10 euros) and open to the general public, thanks to continuing support from GRoW @ Annenberg. Talks by published authors often include a book sale and signing after the program.
The Library welcomes speakers like Jeffrey Goldberg, Kristin Scott Thomas, Jim Gaffigan, Reza Aslan, Ta-Nehisi Coates, Rachel Kushner, Marianne Faithfull, Nicole Krauss, Tash Aw, Colson Whitehead, Viet Thanh Nguyen, Sebastian Faulks, David Hare, Jane Smiley, Jimmy Buffett, Emmanuel Carrère, Hisham Matar, Gary Shteyngart, Jelani Cobb, Adam Gopnik, David Sedaris, Michael Palin, Richard Ford, Joe Klein, Paul Auster, Richard Russo, and Ottessa Moshfegh twice a week, every Tuesday and Wednesday.
Sign up for e-Libris or consult the Program Calendar  or our Facebook page to learn more about upcoming events.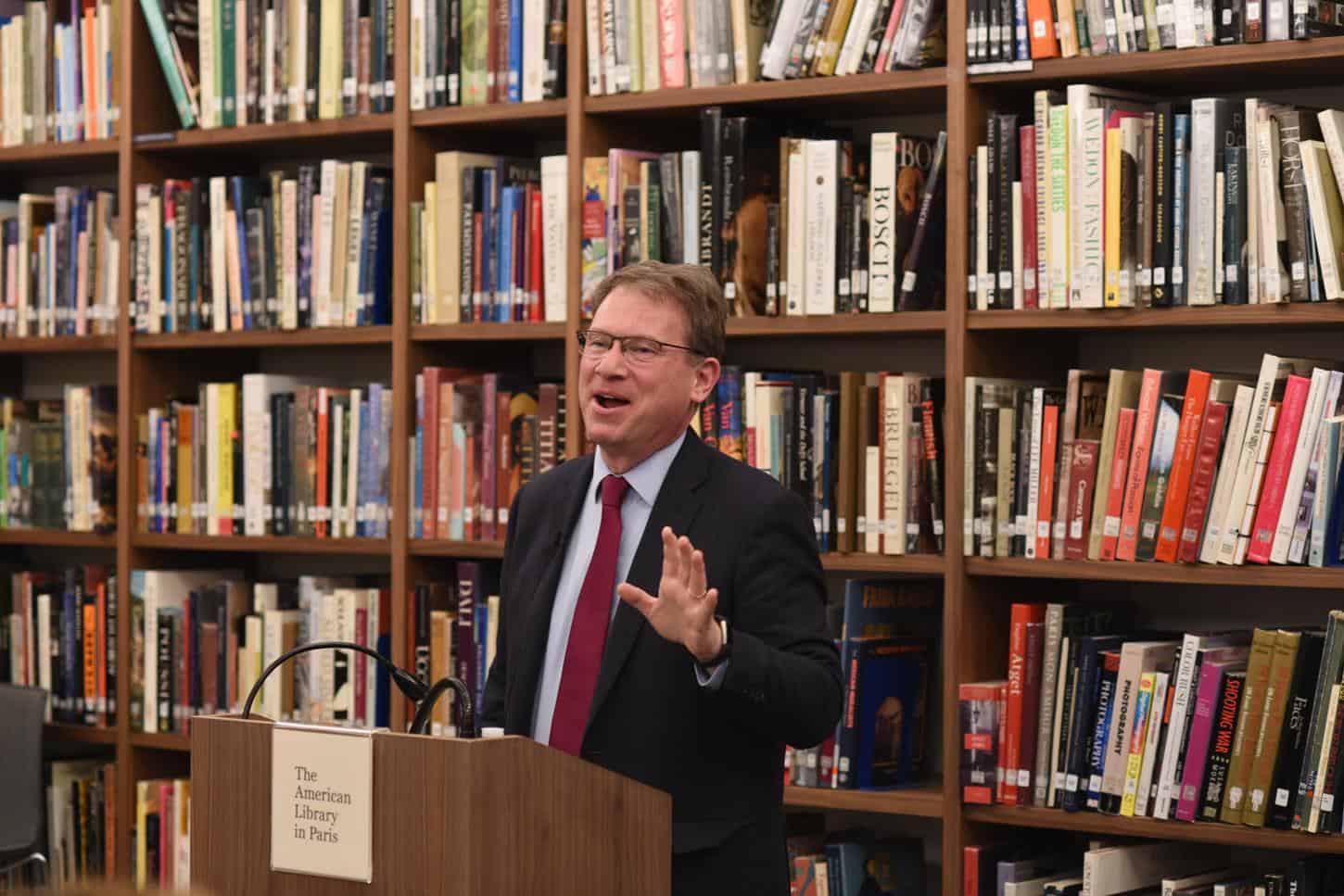 Jeffrey Goldberg, editor in chief of the Atlantic Monthly speaking on 14 February  2017.
Photo by Krystal Kenney.
Suggesting an evening program at the Library
The Library recruits speakers, but also reviews ideas and proposals from publishers, agents, and the community.  The events calendar is competitive and busy, but if you would like to propose a program at the Library, please submit a proposal using this link. If you have any additional questions, please contact programs@americanlibraryinparis.org.
The Library gives priority to books from major publishers reviewed by established media.
We are unable to host musical or theatrical performances.
Books about France and the French-American encounter are found regularly on our schedule, but Library audiences have an appetite for all manner of subjects.
Please note that the Library is unable to provide honoraria or travel stipends for guest speakers.
The Library has a professional lectern with amplification, as well as lavalier and hand-held microphones for speakers who prefer to speak while in motion.
The Library also has a screen and projector for visual presentations. We are able to accommodate both Mac and PC laptops, as well as iPads and iPhones.
All programs are in English, although our audience, like our members, are largely bilingual and come from many countries.
All programs are on Tuesdays and Wednesdays, excluding holiday periods, and begin at 7:30 p.m. The speaker's presentation and the questions and answers which follow conclude within one hour, so 45 minutes is the optimum length of a presentation.
The Library's Florence Gould Reading Room, where the programs take place, seats 90 people. Audience size ranges from 25 to 150, with an average attendance of 60.
The Library publicizes events on this website, on its social media platforms, in its electronic newsletter (7,000 subscribers+), as well as in the Library itself.
Please note that the Library very occasionally must reschedule appearances in order to take advantage of extraordinary opportunities.