Critical Conversations: 2022–23 with Analog Sea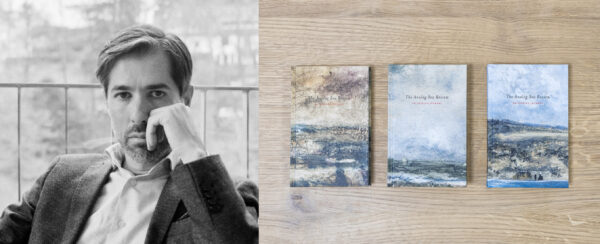 In partnership with Analog Sea, an offline publisher of printed books, we're delighted to announce the fourth season of Critical Conversations, an expert-led discussion series that allows Library members to ponder the most important issues of our time. We will discuss questions such as: What do we gain from disconnecting, and how can we do it? How can we sharpen our senses and redirect our attention in order to change our thoughts and actions? And most of all, how can we live in contemporary society with nuance and intention?
Whether in France or America, debate is central to healthy democracy. Critical Conversations encourages both disagreement and agreement through thinking, talking, reading, and actively participating in community. Since the series' inception in 2020, we have tackled race in America, the climate crisis, and migration. Across seasons, participants have challenged themselves, their peers, and the world in which we live.
Some Details:
The 2022–23 series will unfold over nine sessions, from November 2022 to July 2023. Conversations will begin at 19h00 CET and run for ninety minutes, in person, at the Library; technology of all description is happily forbidden. Each participant will receive copies of all four Analog Sea Review volumes published so far. Course reading and discussion will, for the most part, be based on work published in The Analog Sea Review. Jonathan Simons, founding editor of Analog Sea, and Alice McCrum, Programs Manager, will begin each meeting with some opening remarks, before guiding a group discussion.
Meeting One: Overstimulated in a Hyperstimulated World on Thursday 17 November 2022
Meeting Two: The Cult of the Image on Thursday 8 December 2022
Meeting Three: Culture Imperiled on Thursday 12 January 2023
Meeting Four: Attention on Thursday 16 February 2023
Meeting Five: Space, and the Idea of North on Thursday 23 March 2023
Meeting Six: Wonderment on Thursday 20 April 2023
Meeting Seven: Nature on Thursday 11 May 2023
Meeting Eight: The Writing Life on Thursday June 15 2023
Meeting Nine: Life on Thursday 6 July 2023
Please review the above 2022-23 Critical Conversations Syllabus for more details about all meeting dates and readings.
How to Join:
This series will take place in person at the Library and is open to both Library members and non-members.
Advance payment and registration is required:
Regular rate: 150€ per participant.
Reduced rate: 100€ (exclusively for students/seniors 60+/under 25/unemployed/disabled).
Please email Emilie Biggs, Programs Assistant, biggs@americanlibraryinparis.org with any questions.
About the Series Leaders:
The series leaders for 2022-23 are Alice McCrum and Jonathan Simons.
A Master's student of public policy at Sciences-Po Paris, Alice McCrum runs cultural programming at the American Library in Paris.
Jonathan Simons is the founding editor of offline publishing house Analog Sea and its literary journal, The Analog Sea Review. As a poet and essayist, he has written for publications including The London Magazine, PN Review, El País, subTerrain Magazine, and The Analog Sea Review. His work has been covered by, among others, the Guardian, the Times Literary Supplement, the Washington Post and La Vanguardia. He researched Buddhist poetics at Naropa University and McGill University and was formerly a visiting scholar at the Max Planck Institute for Human Development, Center for Humans and Machines, in Berlin.